TRAVEL EXHIBITION
"THERE WAS SOMETHING …."
OWNER OF THE EXHIBITION:
The Federal Foundation for the Reappraisal of the Communist Dictatorship, Germany
CONTACT ADDRESS, TEL., EMAIL, ETC:
Bundesstiftung zur Aufarbeitung der SED-Diktatur Kronenstraße 5 10117 Berlin. Tel: +49 (030) 31 98 95-0 Fax: +49 (030) 31 98 95-210 buero@stiftung-aufarbeitung.de
CONTACT PERSON:
Dr. Sabine Roß. (ausstellung@stiftung-aufarbeitung.de.)
WEBSITE:
About the exhibition (in German language):
http://www.stiftung-aufarbeitung.de/Flix/index.php
TECHNICAL REQUIREMENTS:
The exhibition consists of 20 posters in A1 format (59.4 × 84.1 cm). The posters are printed and will be sent to you rolled in a box. You will need to provide the method for exhibiting them yourself. Further technical specifications can be found on the website.
LANGUAGE AND TRANSLATION:
The exhibition is available in German and in English
FINANCIAL CONDITIONS, ORDERING, TRANSPORT, ETC.:
The fee for the printed posters is € 98.00, including postage. The posters must be ordered from the Federal Foundation by filling in an order form that can be found on the website. Further conditions are given on the website.
FORMER EXHIBITION VENUES. DISTRIBUTION, ETC.:
Printed in an edition of 1,000 copies. Ca. 250 schools purchased the exhibit to be presented there and to be used for educational purposes. In addition to that, the exhibit was shown in Poland, Brazil, and Great Britain.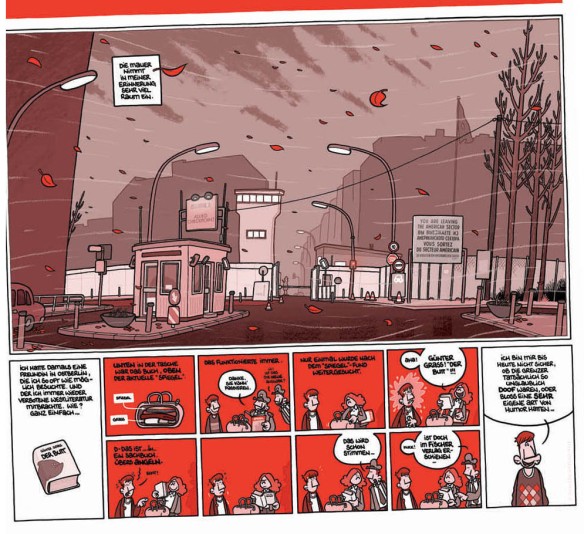 Flix, one of the best comic strip artists in Germany, asked himself and his friends what they remember when they think back to the days when Germany was still divided. A colorful comic book series was born out of the answers: "There was something …"
Each episode tells the story of the division of Germany from a different, personal perspective. Memories here and there, in communist East Germany and democratic West Germany, in dictatorship and democracy. Flix has recorded them. Frank, complex, thoughtful, and, at times, even amusing. The posters each teach a history of Germany that goes far beyond mere factual knowledge.
The exhibition has been produced in cooperation with the artist and the book publisher CARLSEN.