TRAVEL EXHIBITION
SOLIDARITY OF NATIONS
OWNER OF THE EXHIBITION
European Solidarity Centre
CONTACT ADDRESS, TEL., MAIL ETC
ul. Doki 1, 80-958 Gdańsk tel. +48 58 308-43-19, 308-43-09 a.kornacka@ecs.gda.pl
CONTACT PERSON
Agnieszka Bacławska-Kornacka Specialist for Organizing and Handling Exhibitions
WEBSITE
TECHNICAL REQUIREMENT
The exhibition covers 32 countries, supporting or receiving assistance. Formally, it consists of 38 large format prints of archive pictures, 1.91m x 1.30m in size. The exhibition boards are embedded in grey steel racks. The exhibition area is 14m x 10m. Venues: central squares of cities. We need 4 people to install the exhibition; working time is 6 hours. The steel exhibition weighing 1.5 tons provides protection for the outdoor exposition in varying weather conditions.
LANGUAGE AND TRANSLATION
Subtitles are in English and additionally there are boards in the native language of the country concerned.
ECONOMIC CONDITIONS (TRANSPORTATION ETC.)
On our part we guarantee to cover transfer costs of the person supervising the installation and the curator of the exhibition. The host prepares a suitable place for the exhibition, covers the costs of transportation and provides accommodation.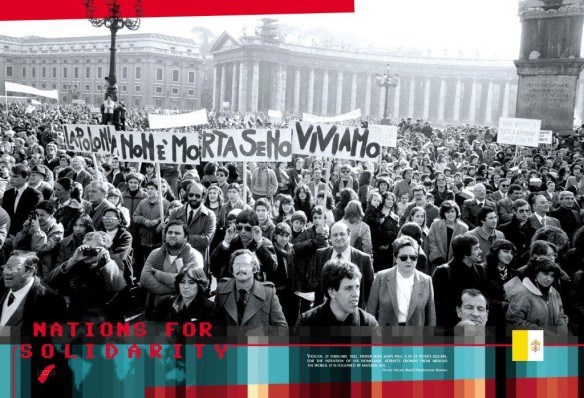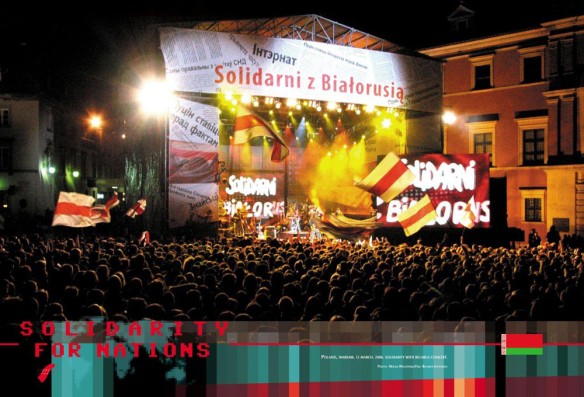 SOLIDARITY OF NATIONS.
LARGE FORMAT OUTDOOR EXHIBITION FOR THE 30 TH ANNIVERSARY OF SOLIDARITY
The exhibition entitled Solidarity of Nations is a large format presentation whose purpose is to show the idea of Polish Solidarity across regions as a global concept that managed to encompass many countries. The exhibition shows that Polish victory in 1980 and 1989 was easier because of choosing the path of peaceful dialogue, the personal partnership of many nations, and that common aspirations can be the source of political and historical success on a global scale.
The exhibition is substantially divided into two parts. The first – Nations for Solidarity – presents different forms of support of other world nations for Polish Solidarity in the 1980s (demonstrations, packages, medical and printing equipment, diplomatic lobbying, support of trade unions).
The second – Solidarity for Nations – presents the assistance of the Polish nation offered to other countries (demonstrations, concerts, fundraising) in their fight for sovereignty or democracy – some time ago (the domino effect) and now (i.e. Tibet, Belarus, Cuba). The exhibition is accompanied by an artistic installation Packages from the West in the form of steel, "laced" boxes.
During the opening we propose to award Medals of Gratitude to foreigners for their assistance to Solidarity and to collect signatures of VIPs under the Message to Nations of the World, sent by the president Lech Wałęsa on the occasion of this year's celebration of the 30th anniversary of Solidarity.
The exhibition is accompanied by an artistic outdoor exhibition entitled Solidarity Today. During subsequent visits of the exhibition an international gallery Youth of the World on Solidarity will be created. The award for young artists will be a trip to Poland and taking part in Solidarity Express (August 2010).