TRAVEL EXHIBITION
Roads to Freedom
Europe via Solidarność
OWNER OF THE EXHIBITION:
Solidarity Centre Foundation
CONTACT:
Solidarity Centre Foundation 24 Wały Piastowskie St 80-855 Gdansk, Poland tel. + 48 58 308 4280 fax + 48 58 308 4234 E-mail: fcs@fcs.org.pl
CONTACT PERSON:
Ms Anna Karcz
WEBSITE:
TECHNICAL REQUIREMENTS:
The exhibition consists of 90 boards (1m x 2m), which create about 30 cubicles measuring 2,5m x 2,5m x 2,5m and are exhibited in the form of a labyrinth. The entire exhibition weighs about 3 tons. The area required for the exhibition is 350m2.
LANGUAGE AND TRANSLATION:
The exhibition has already been translated from Polish into: German, English, Ukrainian, Romanian, and may be translated into other languages. The exhibition's catalogue in the language of the exhibition is included.
FINANCIAL CONDITIONS (TRANSPORTATION ETC.):
The borrowers must pay transportation costs and all other expenditures related to translation, erection and dismantling of the exhibition.
FORMER EXHIBITION VENUES:
Austria, USA, Romania, Canada, Ukraine.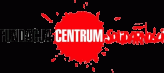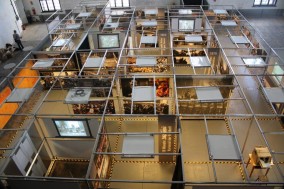 Construction of the exhibition (bird's eye view)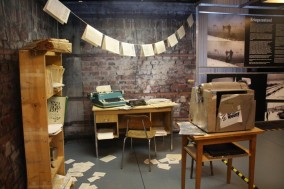 A reconstruction of a secret printing house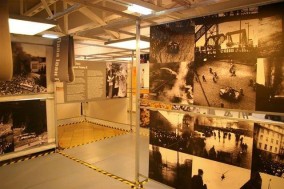 Construction of the exhibition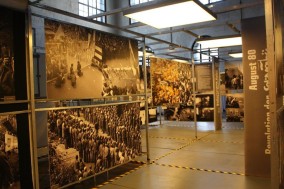 Construction of the exhibition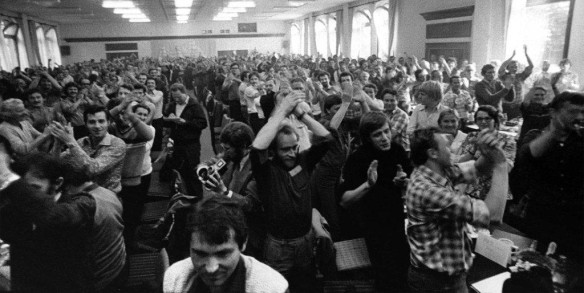 The BHP hall at the Lenin Shipyard in Gdańsk
August 1980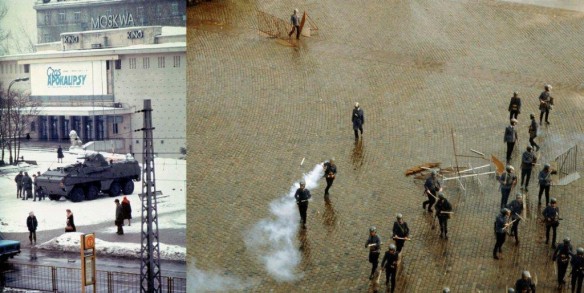 ROADS TO FREEDOM
EUROPE VIA SOLIDARNOŚĆ
The main idea behind the exhibition is to present a multilayered story, dealing with the modern history of Poland, as well as the phenomenon of Solidarity, portrayed against the backdrop of the most significant European events. The exhibition, by means of state of the art multimedia, takes the viewers on a chronological journey, beginning in 1945, towards a certain goal. This goal is an invitation to visit Poland – the country of a critical historical importance, as well as Gdańsk – the city where the downfall of the communist regime began. It also invites viewers to join in the continuation of the idea of Solidarity nurtured by the European Solidarity Centre.
Each viewer receives a catalogue in the language of the exhibition containing additional detailed information related to the event. There will be a number of stalls with promotional materials and souvenirs. There is no entrance fee.