TRAVEL EXHIBITION
20 YEARS OF PEACEFUL REVOLUTION AND GERMAN REUNIFICATION
OWNER OF THE EXHIBITION:
The Federal Foundation for the Reappraisal of the Communist Dictatorship, Germany
CONTACT ADDRESS, TEL., EMAIL, ETC:
Bundesstiftung zur Aufarbeitung der SED-DIktatur Kronenstraße 5 10117 Berlin. Tel: +49 (030) 31 98 95-0 Fax: +49 (030) 31 98 95-210 buero@stiftung-aufarbeitung.de
CONTACT PERSON:
Dr. Ulrich Mählert
WEBSITE:
About the exhibition (in German):
http://www.stiftung-aufarbeitung.de/ausstellung89/index.php
http://www.stiftung-aufarbeitung.de/ausstellung89/ausland/1234.php
TECHNICAL REQUIREMENTS:
The exhibition consists of 20 posters in A1 format (59.4 × 84.1 cm). All the posters and a description of the content can be found on the website. You will need to print the posters yourself and provide the method for exhibiting them. The print files can be ordered from The Federal Foundation by filling in an order form that can be found on the website (appendix to the description of the exhibition). Further technical specifications can be found on the website.
LANGUAGE AND TRANSLATION:
The exhibition is available in German, English, German, Spanish, French and Russian.
FINANCIAL CONDITIONS, ORDERING, TRANSPORT, ETC.:
The exhibition's print files will be provided to you free of charge to print your own poster set. The printing costs will be your responsibility. Your printed posters can also be passed on to other museums/institutions. Further conditions are given on the website.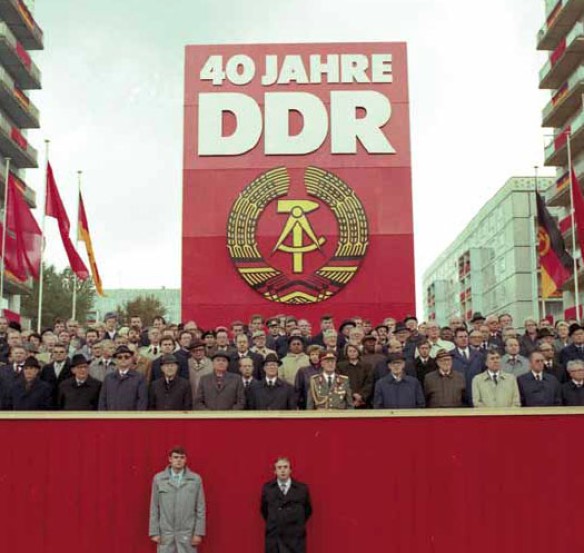 20 YEARS OF PEACEFUL REVOLUTION AND GERMAN REUNIFICATION
2009/2010 was the 20th anniversary of the peaceful revolution and reunification of Germany. The Federal Foundation and the Hertie Foundation have therefore prepared a poster exhibition on the historical and political context. Foreign-language versions of the exhibition and their presentation abroad have been funded by the Foreign Office of the Federal Republic of Germany.
The exhibition highlights the events that occurred at that time. These include, for example, the protests at the falsification of the East German elections, the movement of refugees and the mass protests that forced the SED dictatorship to its knees. The exhibition explains, among other things, the German-German solidarity and the foreign policy choices involved in restoring German unity.