TRAVEL EXHIBITION
A CHRONICLE OF VIOLENCE
LITHUANIA, 1939-1941
OWNER OF THE EXHIBITION
The Museum of Genocide Victims, Vilnius, Lithuania.
CONTACT ADDRESS, TEL., MAIL ETC
The Museum of Genocide Victims Auku 2a, LT-01113 Vilnius, Lithuania (+370 5) 266 32 82, muziejus@genocid.lt
CONTACT PERSON
Ms Zydrune Sidagyte, Chief Education Officer of the Museum of Genocide Victims
WEBSITE
TECHNICAL REQUIREMENT
The exhibition is constituted of thirty stands. Twelve stands are 200 cm high and 110 cm wide, eighteen – 200 cm high and 60 cm wide each.
LANGUAGE AND TRANSLATION
The exhibition is in Lithuanian and English languages. Stands with translation to other language can be places near to each stand.
ECONOMIC CONDITIONS (TRANSPORTATION ETC.)
The borrowers must pay the transportation costs and all other expenditures in connection with translation, erection and dismantling.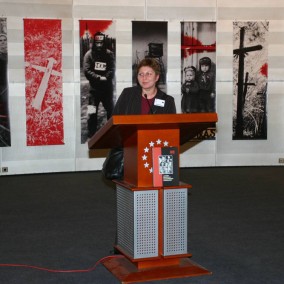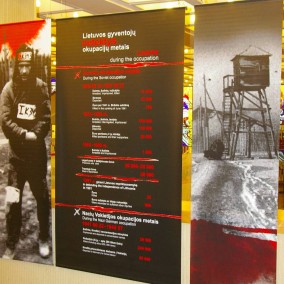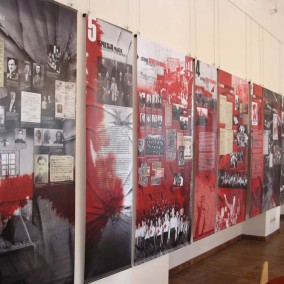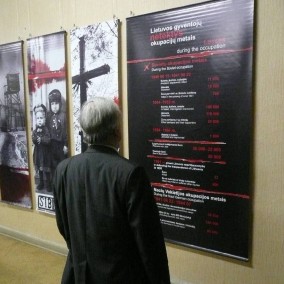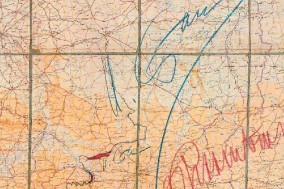 he map signed by Ribbentrop and Stalin to confirm the secret 28 September 1939 agreements.
The army of the Soviet Union crosses the recognised border of the Republic of Lithuania (15 June 1940).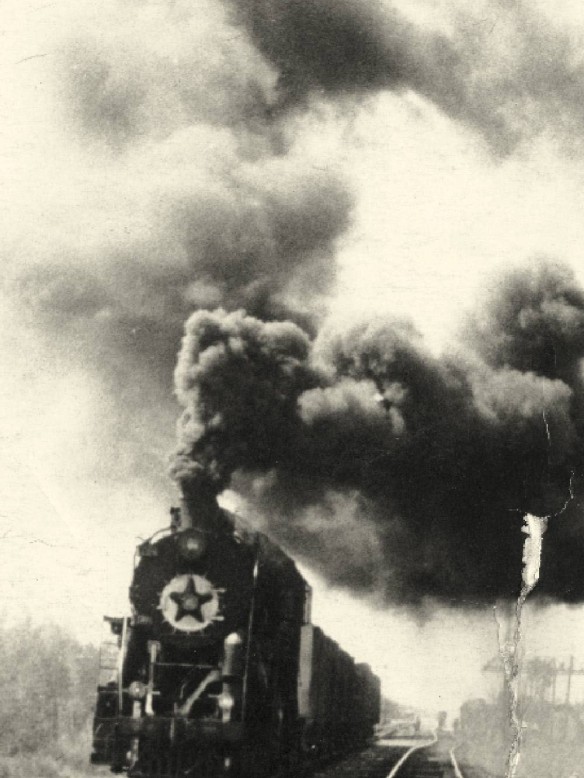 Locomotive with the cattle-trucks. Komi ASSR, 1950s. Such trains were used for the deportation of Lithuanians.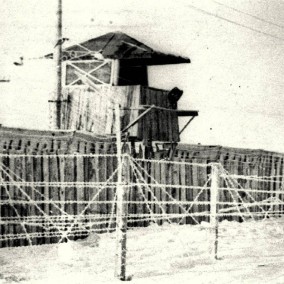 Guard post at the Omsk labour camp. 1956.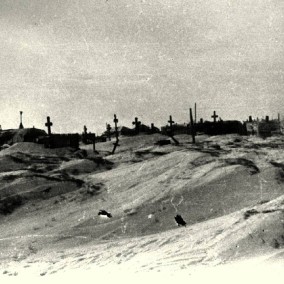 A disappearing cemetery for Lithuanian deportees in Bykov. Yakutia, 1957.
A CHRONICLE OF VIOLENCE: LITHUANIA, 1939-1941
The displayed documents and photos acquaint with the international circumstances in the loss of Lithuania's independence, the beginning of repressions and Sovietisation of the country, the tragedy of black June, when within several days approximately 18 thousand of citizens were deported from Lithuania to the remotest regions of the Soviet Union. A map, depicting the places of deportation of the Lithuanian population, is displayed; statistical data on the repressions experienced during the Soviet and Nazi occupations are provided. The artistic design of the exhibition reflects the motive of "broken lives". The background graphics of the stands, imitating the broken glass, give rise to those associations. Black, white and red colours prevail in the stands. Black and white underline the authenticity of the historic material, while red symbolizes occupations Lithuania experienced and the bloodshed during them.