ARSENALEN
ADDRESS
Arsenalen, 645 91 Strängnäs
WEBSITE
OPENING HOURS
September-May. Wednesday-Sunday: 11:00-17:00. June-August. All days: 11:00-17:00
GUIDED TOURS
Groups upon prior agreement, also in English language. Specially tailored tours are possible. bokning@arsenalen.se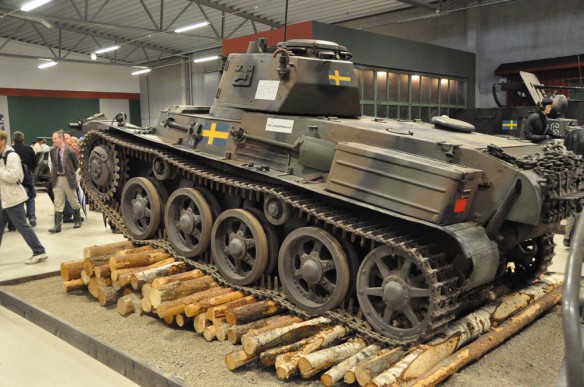 Arsenalen is one of the biggest museum projects in Sweden in recent years. The newly opened museum is a unique military, historical and technical museum of the highest international standard. The museum consists of several sections:
Vehicle exhibition: Different scenes explain how the vehicles were used in practice – from the last century to the present including World Wars 1 and 2, and the Cold War period. Study collections and viewable magazine.
Special events: (see www.arsenalen.se). Demonstrations of vehicles, materials and uniforms make up an important part of the museum's activities. Visitors are able to see how a vehicle moves, sounds and smells. You can also ride some of the vehicles.
Military Music Museum: This is a national museum for Swedish military music which offers the possibility of listening to the music and seeing the orchestras. Opens 2012. (See the website). Figures Museum: Thousands of hand-painted tin figures arranged in dioramas with scene from the Stone Age to the present. Opens 2012 (see website).
Soldier Town: A unique residential town in which 14 soldier families lived between 1664 and 1894. (Opens in August 2012).
Soldier Cottage Museum. Shows soldiers' cottages from the mid-1600s to the beginning of the 1900s (Opens 2013).
Museum shop with literature, models etc. with connection to the Arsenalen's activities.
Cafeteria. A chance for the family to rest with a coffee and a cake, sandwiches or a lunch dish.
Arsenalen is a museum for the whole family. Arsenalen documents interesting life stories and special skills which give the visitors a correct picture of the military system. Our aim is to give visitors an unforgettable experience.