AEROSEUM, GOTHENBURG
ADDRESS
Save Depå, Holmvägen, Gothenburg (Göteborg). Museum address: Holmvägen 100. The Aeroseum is located around 10 kilometres north of the old centre of Gothenburg.
Säve Depå is the former military site of Gothenburg City Airport. The Aeroseum is located on the east side of the civil airport (not at the civil terminal). Follow the sign down a small road prior to the military guard post at Säve Depå.
WEBSITE
OPENING HOURS
11:00-18:00 (including school holidays). Low season: Tuesday-Sunday: 11:00-18:00.
GUIDED TOURS
A guided tour of the underground hangar complex is possible for groups, also in English, German and Spanish. Booking required. See the website. The tour takes 2-3 hours, including a coffee break.

The whole underground hangar complex with existing and
planned exhibitions.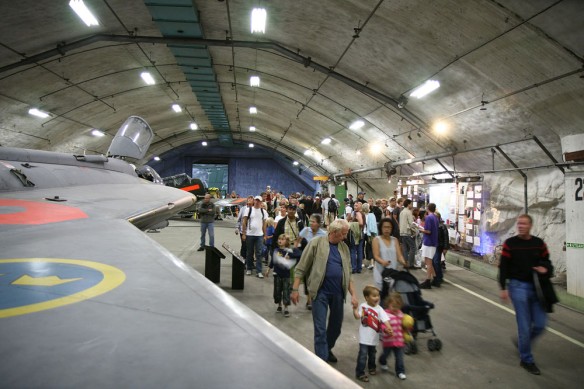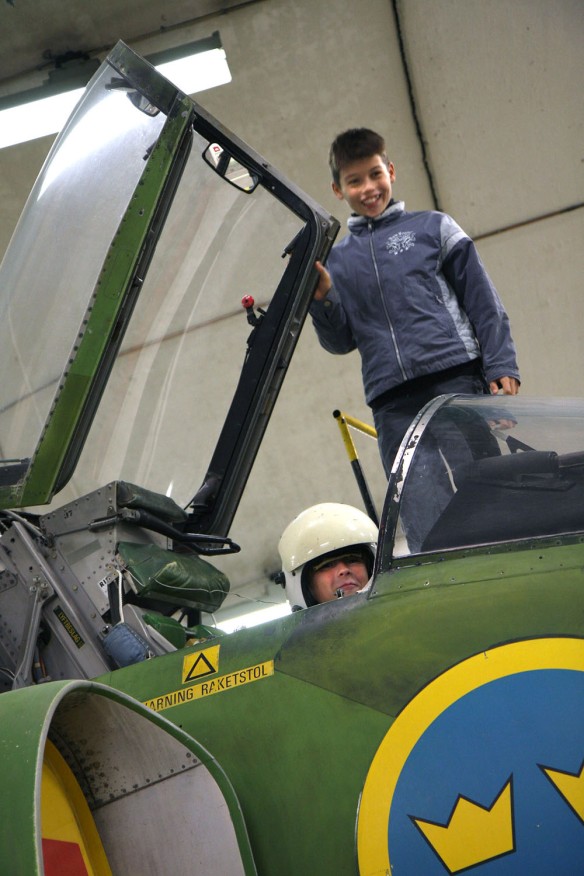 It is possible to sit in the cockpit of a fighter jet.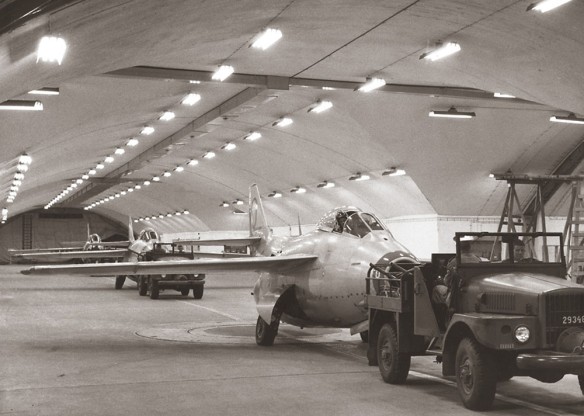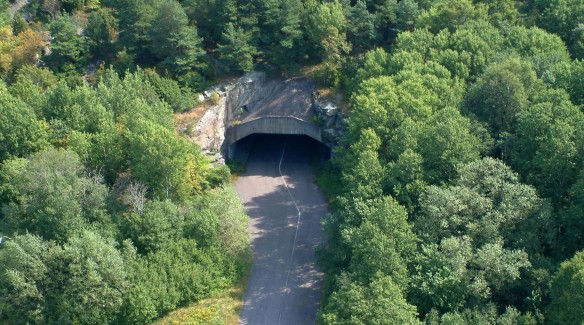 One of the flight entrances to the bunker complex.
A HUGE UNDERGROUND HANGAR COMPLEX
The Aeroseum is located in an underground hangar complex 22,000 square meters large and built for the Swedish Air Force unit F9 Air Wing in the town of Säve in the north of Gothenburg (Göteborg).
It was a top-secret military complex carved out of solid rock 30 meters underground and was able to withstand a nuclear attack.
The complex consists of two rock shelters, an old part of 8,000 square meters (from the early 1940s) and a new part of 22,000 square meters (from the early 1950s), which now houses the Aeroseum.
In the hangars there was room for a full squadron of fighter aircrafts as well as all kinds of service facilities related to munitions, repairs, staff etc. The hangars are still fully equipped and can today still act as an air operations centre if necessary. The Swedish Air Force vacated the site in the 1990s and it was declassified in 2003.
The museum includes both civil and military aircrafts – such as the famous Swedish-produced Draken, Lansen and Viggen fighter aircrafts. You can sit in the cockpit of a fighter jets and a helicopters.
An exhibition explains the Cold War period and history of the site.
F9 (1940-1969) was the home fighter wing for the city and harbour of Göteborg. They also provided air security for the strategically important west coast of Sweden.