MEMORIAL. MEDININKAI
The guardhouse is protected as a memorial, located approximately 100 meters from the customs post between Lithuania and Belarus, on main road 103 between Vilnius and Minsk. The key can be borrowed from the customs post if the house is closed. There are several memorials on the spot.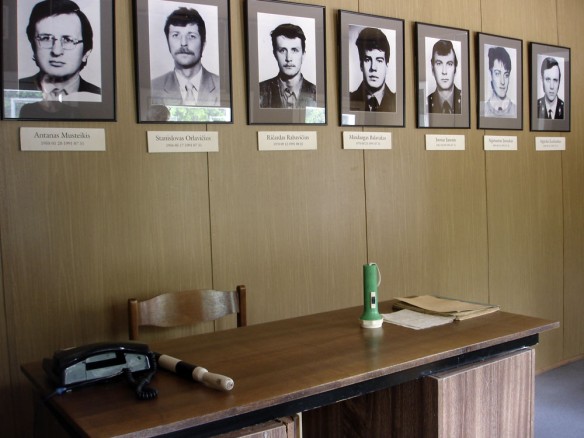 From the inside of the guardhouse. Photos of the executed policemen and border guards.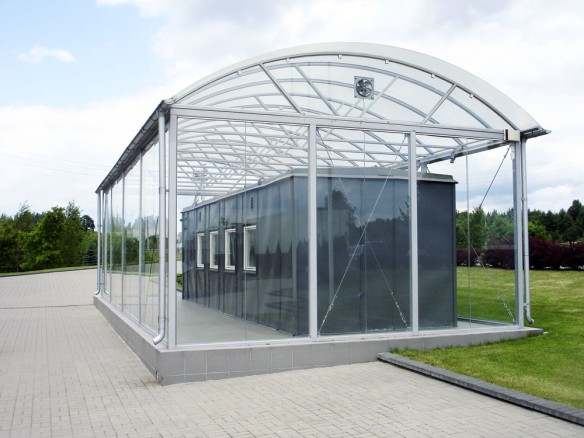 The guardhouse, today protected by a glass house.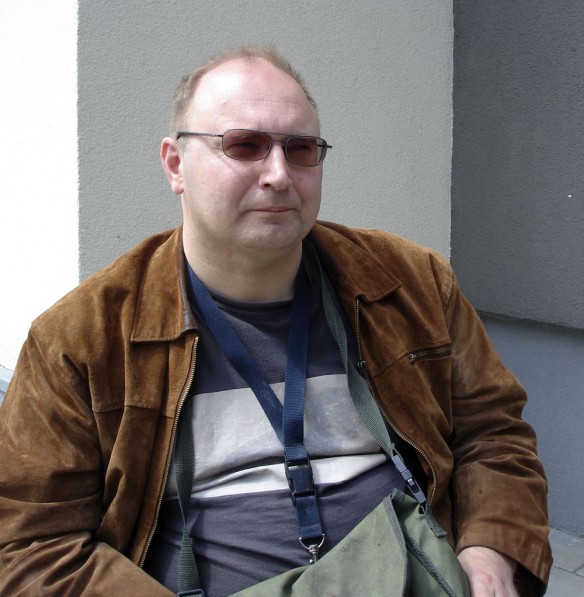 Tomas Sernas survived the massacre at Medininkai border post and is sentenced to life in a wheelchair. He was working as a biologist in Kaunas Zoo at the time and felt that he had to do something for his newly independent country so he volunteered as a custom officer. All the other executed persons were volunteers. Today Tomas Sernas is a priest of the Evangelical Reformed Church of Lithuania in Vilnius.
All the murdered persons are buried at the Antakalnis Cemetery (Antakalnio kapinės) in Vilnius They have all received one of the highest state awards, the 1st Class Order of the Cross of Vytis.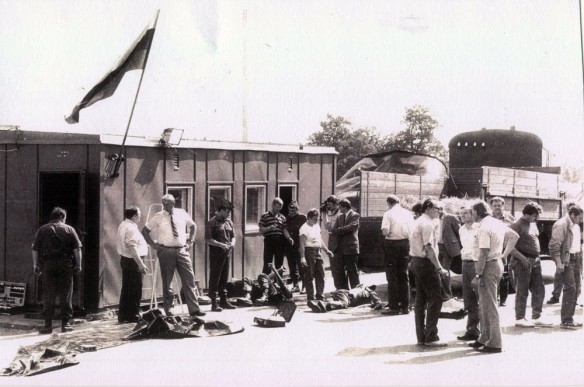 The day after the massacre. (The archive of The Museum of the Custom, Vilnius).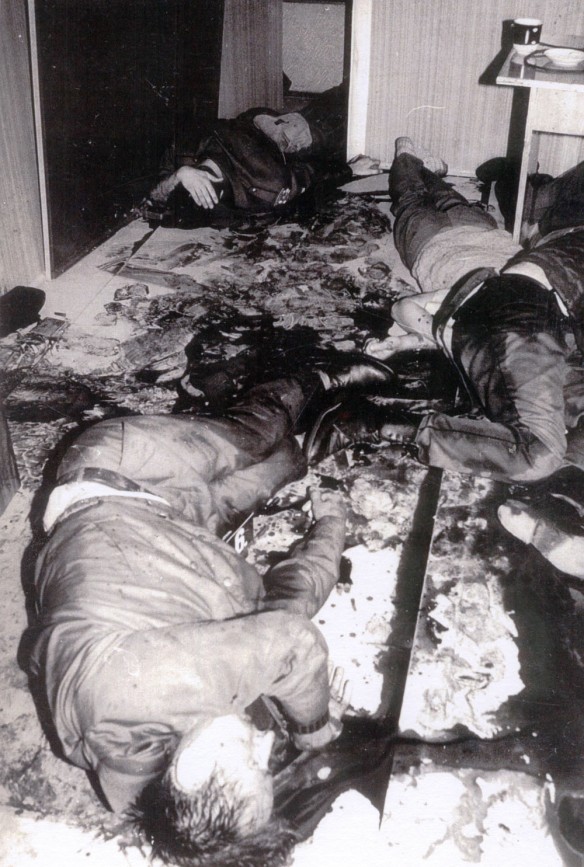 The guardhouse. The day after the execution of seven Lithuanian policemen and custom officers. (The archive of The Museum of the Custom, Vilnius).
THE EXECUTIONS IN THE GUARDHOUSE AT MEDININKAI
At 4 o'clock in the morning on July 31, 1991, eight Lithuanian policemen and custom officers were executed in Medininkai on the Lithuanian border with Belarus. They were killed by shots to the back of the head as they lay on the floor of the guardhouse. The executers were Soviet OMON forces from Riga (Special units of armed police forces). The custom officers were unarmed. The policemen were armed but with the order not to use the weapons to avoid provocations.
One of the border officers, Tomas Sernas, miraculously survived, albeit disabled.
The establishment of the Lithuanian border posts was a logical consequence of the fact that Lithuania had declared itself independent in March 1990. The Soviet Union did not accept this independence and viewed the border posts as illegal and therefore used the OMON forces to destroy them. The only survivor, Tomas Sernas, said that the OMON forces attacked the station from the nearby forest, dressed in Soviet uniforms.
All prisoners were ordered into the guardhouse and told to lay down on the floor. The light was turned off and the executions began. Tomas Sernas was not found until the next morning. It took many months for him to be treated at a hospital. Another border guard was killed at another guardhouse. In other places the staffs was beaten and the buildings were burned down or demolished. Thirty officers were attacked and injured. All the suspected OMON soldiers were Russian citizens.