MUSEUM OF CONTEMPO-
RARY HISTORY, BONN
ADDRESS
Willy-Brandt-Allee 14, 53115 Bonn.
WEBSITE
OPENING HOURS
Tuesday to Friday 09:00 – 19:00, Saturday to Sunday 10:00 – 18:00.
GUIDED TOURS
For groups of 15 persons and more, we offer free guided tours of the permanent exhibition and the temporary exhibitions. For group reservations please contact the Visitor Services: +49 (0)228/91 65 400, E-Mail: besucherdienst-bonn@hdg.de.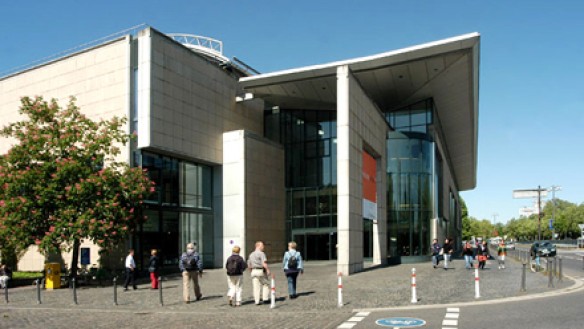 Exterior view of the museum of Contemporary History © Stiftung Haus der Geschichte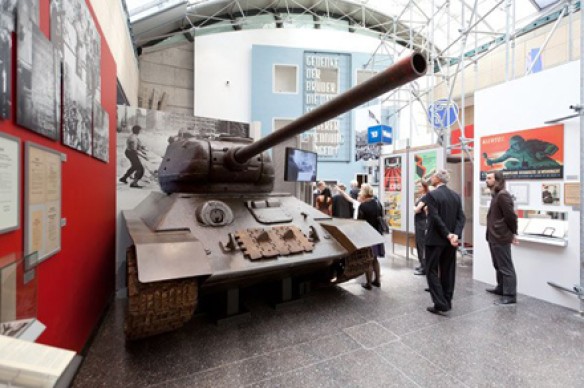 17th June 1953, People's revolt in the former GDR, Soviet tank T34 © Stiftung Haus der Geschichte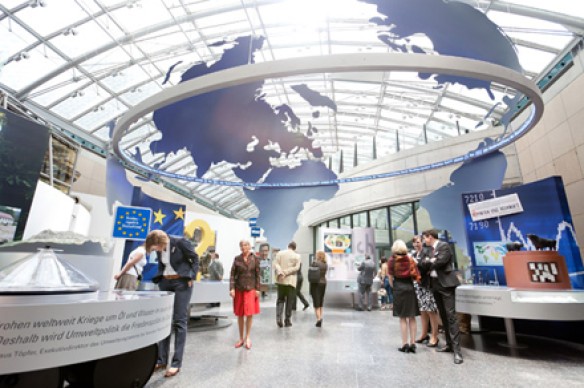 The 6th exhibition space of the museum focusing on globalization © Stiftung Haus der Geschichte
GERMAN HISTORY AND THE COLD WAR
Liberation and hope for some, defeat, disillusion and fear for others. World War II, unleashed by Germany, ends with the unconditional surrender of the Wehrmacht on 8 May 1945. The Berlin crisis of 1948/49 makes it obvious: the Four-Power Government has failed. Germany becomes a divided nation. The Federal Republic of Germany emerges in the West, the German Democratic Republic under the dictatorship of the Socialist Unity Party (SED) in the East. The dispute between the superpowers USA and USSR exacerbates conflicts around the world. For the Germans, the division of the world into East and West has direct consequences: Berlin is a focal point of confrontation. With the building of the Wall in 1961, the SED cements the division of Germany.
MUSEUM OF CONTEMPORARY HISTORY
The Museum of Contemporary History displays the history of Germany from the end of World War II to the present. The historical background and origin of the two Germanys, the decades of German division and the history of reunified Germany are the focal points of the permanent exhibition. The exhibition follows the flow of contemporary history. It is constantly being optimized. In 2011, the revamped permanent exhibition was opened. Objects – documents, photos, sound recordings and film clips – these are the core of our exhibition. They are "witnesses" – historical records evoking memories of the past or inviting comparison with the present. More than 7.000 items are displayed over 4.000 square meters and the objects are placed in contemporaneous settings to create a "you are there" feeling.