MEMORIAL BERLIN-HOHENSCHÖN-HAUSEN, BERLIN
ADDRESS
Genslerstr. 66, D-13055 Berlin
WEBSITE
OPENING HOURS
Daily between 9:00 and 18:00.
GUIDED TOURS
Visitation of the historic buildings only by guided tour. Please contact the visitor's centre by email (besucherdienst@stiftung-hsh.de) or telephone (0049 (0)30 98608230) for group registration.
Tours for individual visitors:
English tours: March to October: daily 10:30, 12:30 and 14:30; November to February: daily 11:30 and 14:30
German tours: March to October: daily every hour 10:00 to 16:00; November to February: Monday to Friday 11:00, 13:00 and 15:00, Saturday/Sunday/holiday every hour 10:00 to 16:00
Russian tours: Sunday at 14:00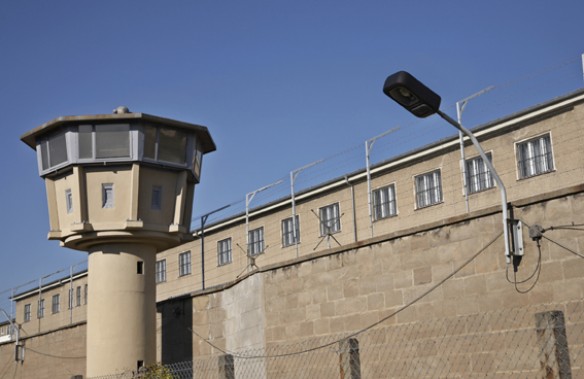 Berlin-Hohenschönhausen is a synonym for political imprisonment and the perverted justice in East Germany.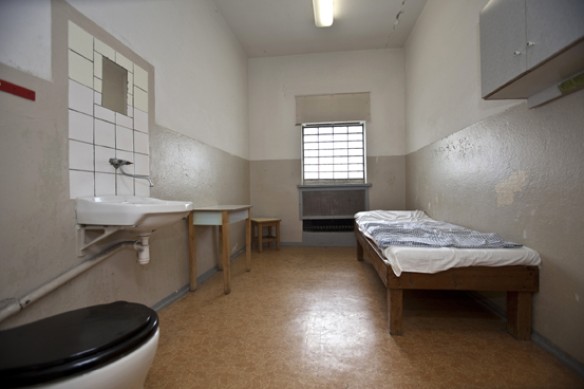 Hartmut Richter tells students about his experiences as a political prisoner.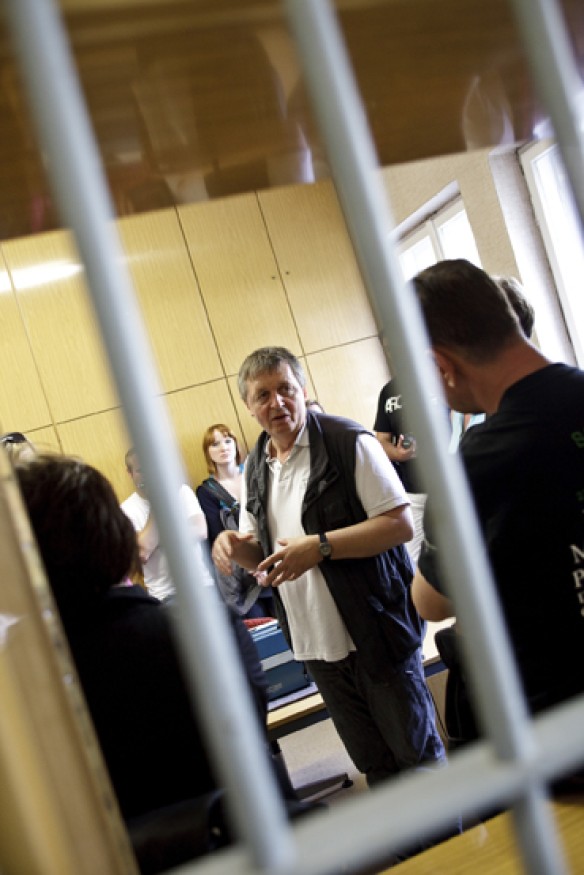 Hartmut Richter tells students about his experiences as a political prisoner.
BERLIN-HOHENSCHÖNHAUSEN: SPECIAL SOVIET CAMP AND STASI PRISON
The former political prison of Berlin-Hohenschönhausen is one of the most important locations that tell the history of political persecution in East Germany during the Cold War. Right after World War II, the Soviet Secret Police took over a former canteen block in the north-east part of Berlin to turn it into a detainment and transit camp called 'Special Camp No. 3'. After its closure in 1946, the cellar was transformed into an underground cell section – the so-called submarine – serving as the main Soviet prison for detention and interrogation in Germany. In 1951, the East German Ministry of State Security (MfS) took over the prison, added a new prison building ten years later and used the site as its main remand centre until 1989. Thousands of political prisoners passed through this jail, including nearly all the prominent figures opposing the GDR regime.
The remand prison was located within a restricted military area hermetically sealed off from the outside world. It never appeared on any maps of East Berlin. The main MfS service units responsible for prisons and criminal prosecutions were conveniently located nearby. The remand prison and the restricted area formed kind of a headquarter of communist repression in East Germany.
TODAY IT'S A MEMORIAL
Since 1994, the former prison is a Memorial. Thousands of people visit the place every year to learn about the crimes committed by the communist regime in East Germany. Since the vast majority of the buildings, equipment, and furniture are intact, the Memorial provides a very authentic picture of prison conditions in the GDR. Guided tours are usually led by former inmates who provide first-hand details on their experiences during imprisonment including interrogation methods and detainment conditions. Furthermore, the Memorial is often showing special exhibitions and holding events for the public. Publications are available in a bookshop.